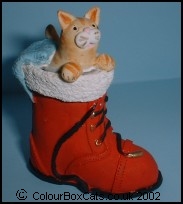 Our www.ColourBoxCats.co.uk website is dedicated to the memory of those detailed, loveable and collectable cats designed by Peter Fagan and produced by Colour Box in the years 1983 to 2000. We will try to provide details and photos of the whole of the Home Sweet Home Cat Range and also cats from the Hopscotch Mini Range.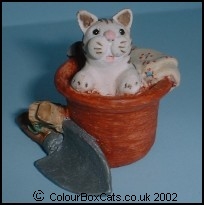 Sadly Colour Box as such does not exist anymore, however Peter Fagan the designer of the range, after a serious illness is now able to keep up the good work via his new Collectors Club (Please Contact Wendy the secretary)

The Collectors Guides to Colour Box
by John Hughes

A limited number is now available for £10
(plus £2.40 recorded delivery postage in the UK - postage will be adjusted for orders outside the UK)

Please click the Picture to the left to request your copy now

Exclusive NEW Cat Model "Cats Rule the World"
(Peter Fagan has kindly provided us with an Exclusive cat model
for registered users of our site.
The price of this model is £14.95 with £3.00 Postage and Packing).

NEWS - Model Repairs now available

Index of the Colourbox Range of Cat models
(Click below to view the details and photos of all the models we have been able to identify)
Official Peter Fagan Collectors Club Details
Identify unmarked models

Selling or Buying your models

Reference material

Coming Later this year
Auction your models
Current Price Guide
The History behind Colour Box
Our site is quite large and is therefore available on CDROM, so you can have your personal reference to this range of miniatures available when needed. Please click on the CDROM image for further details.
The illustration below shows the detailed information we provide for each model

Home Page

Index of Models

Previous Page

Cat Ahoy

Sales Code
HS008
Last Recommend Retail Price
£15.50
Manufacture Commenced
February
1996
Model Discontinued
August
1997
Number Produced
Unknown
Comments


Grey cat with black eye patch over right eye wearing a white spotted red bandana and gold medallion sitting on an opened pirate treasure chest containing gold and silver coins and coloured notes.


If you have any comments on our site please contact us - info@colourboxcats.co.uk